JOIN THE LEGACY
Embark on a journey—the story of Diners Club. It begins with a forgotten wallet and a pioneer who saw an uncharted world waiting to be explored. 
1950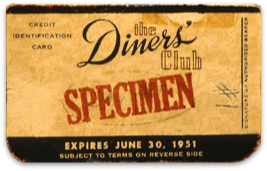 1950
Diners Club becomes the world's first multipurpose charge card.
For businessman Frank McNamara, forgetting his wallet while dining out at a New York City restaurant was an embarrassment he resolved never to face again. Luckily, his wife came to bail him out and pay the tab. But little did he know that dinner would become an important part of credit card history.
A year later in February 1950, he returned to Major's Cabin Grill with his partner Ralph Schneider. When the bill arrived, McNamara paid with a small cardboard card, known today as a Diners Club Card. The event was hailed as the First Supper, paving the way for the world's first multipurpose charge card.

1951
Membership reaches 42,000 as acceptance expands to major US cities, bringing together a new kind of community.
1953
Businesses in the United Kingdom, Canada, Cuba and Mexico begin honoring Diners Club, making it the first internationally accepted charge card.
1955
The franchise network stretches across the globe in Europe, Asia and the Middle East, inviting Clubmembers to belong in countries across the world.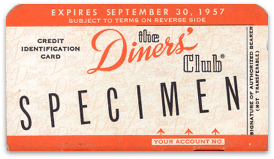 1958
Diners Club runs its first major television advertising campaign as a sponsor of the New York Giants American football team.
Being part of the Club is no longer just about dining, but connecting over sports, travel and all the things members love.
Other moments in history:
Diners Club enters the travel market when travel agencies in major cities agree to accept the card for purchase of airline, steamship and cruise tickets.
In the U.S., the Internal Revenue Service begins to require detailed records of business expenses, which increases demand for Diners Club cards.
During the Floyd Patterson vs. Roy Harris heavyweight championship, more than 25% of the $200,000 spent by spectators that night was charged on Diners Club cards.

1959
Diners Club reaches one million Clubmembers and is listed on the New York Stock Exchange.
1960
1967
130 countries now accept Diners Club—more countries than are in the United Nations.
1969
Diners Club becomes the first charge card in Russia.
Other moments in history:
Reservations World, a subsidiary of Diners Club, creates the first industry-wide computerized reservation system that allows people to make hotel reservations anywhere in the U.S. with a toll-free telephone call.
A new subsidiary, International Floatels, is formed, creating the world's first waterborne hotel. And Diners Club creates a new way to experience something unforgettable.
Yet another Diners Club-owned company produces a Ford credit card to purchase car repairs on credit. Members see that not only is Diners Club making unforgettable moments, it's making the everyday better for them too.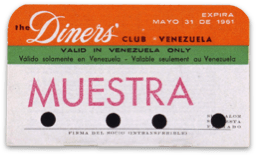 1970
1974
Five out of every six credit card-carrying tourists entering the United States have a Diners Club card.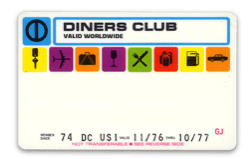 1975
Diners Club introduces the industry's very first corporate card program, marking another significant moment in Diners Club card history.
1980
1980
Diners Club becomes the first charge card used in China.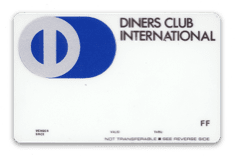 1981
Citicorp acquires Diners Club International.
1984
Diners Club creates the industry's first rewards program: Club Rewards.
Being part of the Club becomes even more rewarding.
1987
Clubmembers can now access cash at ATMs worldwide through Club Cash.
1990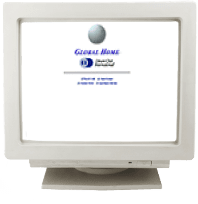 1990
Diners Club offers the first multinational corporate card program.
Other moments in history:

Life Magazine recognizes Frank McNamara as one of the 100 most influential Americans of the twentieth century, further cementing his legacy in the history of credit cards.
Citicorp sells its minority interest in the Diners Club Japanese franchise to Fuji Bank Group and Japan Travel Bureau.
1996
DinersClub.com is launched for the first time.
2000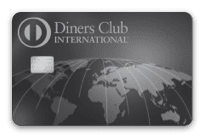 2000
Diners Club International releases the super-premium Black card.
2003
A new global campaign is launched to target business travelers.
2007
The Diners Club multinational corporate card program now spans 40 countries, bringing global companies together with a common product.

2008
Discover Financial Services acquires Diners Club International.
2009
Diners Club International reinvigorates the brand with the launch of a new global advertising campaign that helps members feel like they can belong anywhere, together

Other moments in history: Clubmembers now have access to more than 130 airport lounges around the world.
Diners Club International and PULSE build a global cash network at DinersClubCash.com. The first multi-country acquirer agreement to grow European acceptance of Diners Club and Discover Network cards is signed.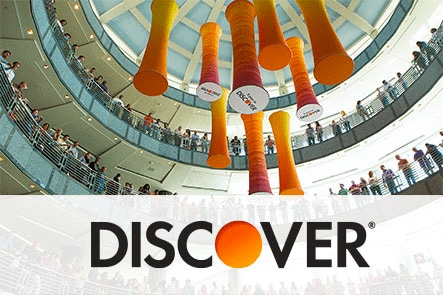 2010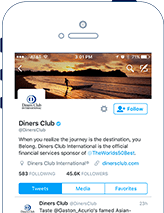 2012
Diners Club International launches its presence on social media.
2014
Diners Club International's Belong II global advertising campaign is launched.
2016
Diners Club International launches its new global website.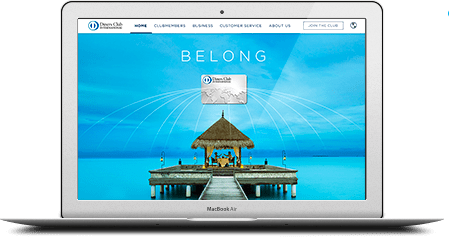 2019
Clubmembers now have access to over 1000 airport lounges around the world to help them make more of every moment.
2020
2020
Diners Club International celebrates its 70th anniversary.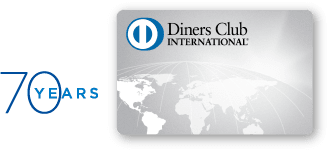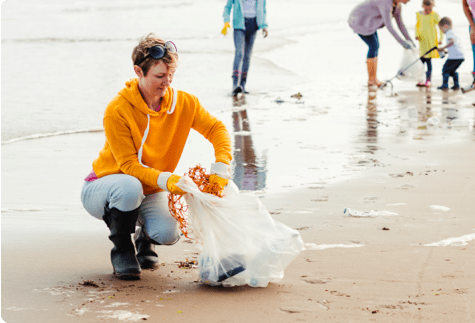 Interested in our corporate social responsibility program?